LETELmetrics' team keeps growing as current Kennesaw State Engineering student Jeff Kidd joins the group as our project engineer. "The opportunity to grow as an engineer is what drew me to LETEL," Jeff says. "I now have greater opportunities to advance in both my position as well as my knowledge than I have had in the past."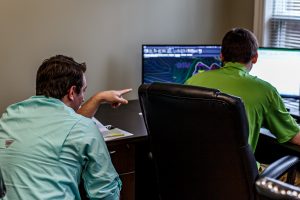 Jeff's been working for over 5 years on all aspects of the job, having started in the field working on a surveying crew before switching to engineering. He's always been interested in design and infrastructure, so engineering was simply a natural path for Jeff. This background means he's got a knack for the art of builder services (tertiary permits and grading plans) as well as 2-and-3D lot fit plans. Jeff's daily duties include the following: land planning, storm and sewer design, grading and erosion control plans, hydrology design and analysis, preparation of plan sets, and getting the permits needed by our clients.
Jeff's graduating this summer with his EIT certification and degree in Civil Engineering, so we're happy to have snatched him up. "I very much enjoy helping our clients and our surrounding communities with any problem that may present itself," Jeff explains. When pressed on what it's like around the LETEL office, he says, "John is an absolute blast to work with.  He has the unique talent of keeping things lighthearted while still getting projects completed and serving our clients."
Jeff's work ethic and personality let us know we've got a great future with him. "My goal for the next year," he says, "is to continue serving our clients to the best of our abilities while growing as a company and expanding our abilities as engineers."
Let Jeff and the rest of the LETELmetrics gang get to work on your next project. We'll show you how we use engineering to provide you with the best business solutions.