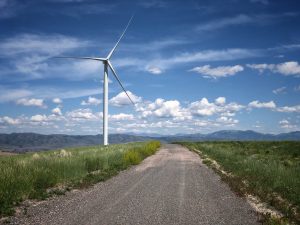 LETELmetrics continues to provide the best in professional business solutions for a wide variety of industries. Case in point: our own Jeff Hagerman just got back from Idaho where we went to get topography at a wind energy site in American Falls. 
LETELmetrics is working with Invenergy to map the corridors (roads) leading to all of the current wind turbines, so they can see if/where they can add new turbines along those roads. It was approximately 12 miles of road with a lot of elevation change and 18 giant turbines to fly around.
Jeff flew into Salt Lake City, UT around 10:30 Thursday night, drove a few hours to Pocatello, ID then flew the site from 8a-7p on Friday and about 7a-11a on Saturday. It didn't go as smoothly as he expected (it never does), as he had issues with cell service for his portable WiFi, then because of wind and the direction of the turbine blades, he had to quickly redo all of his flight plans to make it as safe as possible.
Aside from his clothes and laptop, Jeff had to bring a drone in its case, the GPS, a large power inverter, targets for control points, his PPE, and the pole for the GPS. No time for much food and zero sightseeing, but we got it done! Oh, and Jeff wore his mask to keep the public safe, of course! 
We love getting these reports back from Jeff and the gang about what they're up to on the road. It's still amazing to see how far LETELmetrics is traveling and all the different industries we're working with. Keep following us on Facebook, Twitter, LinkedIn, and Instagram to see more!