You already know the amazing ways Letel Metrics's drone applications can take your small business to the next level, but the story of how they got there is almost as amazing. John Downing is Letel's Co-Creator and Director of Operations and after one conversation with him you'll immediately pick up on the passion he has to help other businesses succeed. Now that Letel has become your go-to company for drone applications in the southeast, John's story is a reminder of how important it is to be at the right place at the right time, doing the right thing.
Humble Beginnings Meet Hard Work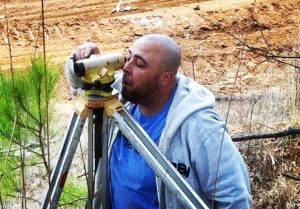 John was your typical high school grad who attended college for one semester but realized it wasn't his cup of tea. Unsure of his next steps, John started working for a large construction company with the help of a friend. Interested in the fun of the job site and that and the decent money it provided someone without a college degree, he started out as a laborer.
John spent those first years shoveling mud, cleaning out manholes, helping in the pipe ditch before he started moving up in the ranks on the site. Eventually, he went from working the roller to understanding grading and becoming proficient at every machine. This "from the shovel up" experience has made what Letel offers unique. "I can take my construction experience from the field level ditch to the estimating office to the dirt takeoff to the model building and layer comparison..it's a full cycle of helping [businesses] manage their job."
All Things Eventually Converge
Around 14 years ago, GPS for machines began to hit the market. John's company was one of the first to buy a machine GPS system and put it on John's dozer. No one knew how to operate it. John figured it out and became one of the top dozer operators in the company. As John's knowledge and understanding of GPS technology were growing, so was the technology itself and John kept pace with it in real time.
All roads began to converge around seven years ago when, fatefully, John met Brad Cox, the CEO of Magnum Contracting. John had just turned 30 and had next-to-zero office experience, but Brad would take the time to teach him the estimator ropes while John started building GPS models for Brad's company. Magnum has now been building their own GPS models ever since and now has over 20 dozers with GPS systems.
Enter the drones!
Three years ago, John heard about drones coming out that could perform ground surveys in real time, cutting back on construction-site mistakes. At the time this was a large investment but John realized Magnum was the only place that could use professional grade drones to handle mapping among various other worksite applications. He proposed to Brad they should start another business dedicated to these professional drones.
The next year, Letel Metrics was incorporated. John talked to other contractors, went to trade shows, and hit the pavement personally to get the sales process down. By the end of the first year, things began to click.
Letel Metrics puts its heart and soul into empowering other companies.
Letel is on track to quadruple their business over last year. They have added two other pilots, including one with a degree in agriculture. John believes they will have a fully functioning staff by the end of 2019.
"Everybody else I know that's trying to do [commercial drones applications] is so far behind where we are and they don't understand what to do with the data. 'Here's a pretty picture', but what does it mean? What did I just pay you to do? I sit down with them and explain the entire project to them." John believes now's the time for businesses to strike and start implementing drones. "If they're not flying and data logging at this point, they are losing money still and they don't know why. We're offering the small-to-medium contractors a reasonable, justifiable price. We want to bring them up to speed and help them charge more and elevate the industry as tech moves along. We're going to be at the forefront of that."
Get out front right alongside Letel Metrics. Now's the time! Check out everything Letel Metrics' drone applications can do for your business and get started today.